Parents met Dippy Duck, Walter Walrus, Quarrelsome Queen, and the 23 other characters living in Letterland on Tuesday, March 7, during Clear Creek Elementary's "Letterland Parent Information Night."
Letterland was adopted as Henderson County Public Schools' primary phonics program in kindergarten and first grades last year, and teachers like Terry Lyda and her student-teacher Lauren Hamilton want to introduce parents to the new program their students are using to memorize the alphabet, learn phonic sounds, and write letters.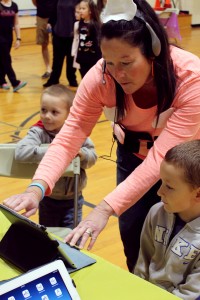 The new curriculum gives each letter of the English alphabet a character and backstory: H is Harry Hat Man, E is Eddy Elephant, and T is Talking Tess. With these new characters, students learn their ABCs with helpful stories that help them keep difficult letters straight.
Director of Elementary Education Shannon Marlowe explained that young students often confuse "W" with "M" in their writing, but the story and images for Walter Walrus helps them remember not to flip the "W" upside down: Walter's "W" has water floating in the v-shaped crevices of the letter, and students have to be careful not to flip his "W" over, or else his water falls out.
After half a year of using Letterland, Hamilton helped organize Clear Creek's parent information night because, "It's new to them" she said.
She said the new program has helped struggling and ESL students learn the alphabet at Clear Creek.
On Tuesday night, tables were set up with in-class activities that the students do every day in Clear Creek's gymnasium. Activities included making words from alphabet cereal, using a SMART board to find letters in images, and acting out the Letterland characters and their stories in a costume corner.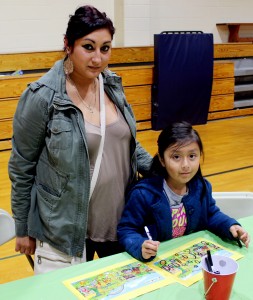 Samantha and John attended Letterland night with their daughter Mayson, who's a kindergartener at Clear Creek. Her favorite character is Golden Girl, "because of her long hair," she said. Not only does Mayson practice her letters in class, she takes the lessons home.
"Word wise, she always goes back to Letterland," her father said.
Since Letterland is also currently taught in first grade, First Grade Teacher Leila Giesenschlag was there using lessons from her classroom. In first grade, the different characters of LetterLand interact with each other.
Giesenschlag said, "A combination of letters have different sound and different stories."
For example, Sammy Snake and Harry Hat Man work together to make the /sh/ sound.
"Students who have a strong phonics background are better able to decode unknown words," Marlowe said. "However, phonics in isolation is not the key to reading – so it is just one facet of our literacy program."
She added, "This next school year (2017-18), we'll roll it into 2nd grade district-wide as well."
– By Molly McGowan Gorsuch & Alex Ramirez
   Public Information Office, HCPS