How did you show your love this Valentine's Day? Entrepreneurial students at Upward Elementary and Henderson County Early College donated proceeds from "candy grams" to school and community needs.
It's an annual tradition in schools nationwide for students to send "candy grams" – or Valentine's Day messages accompanied by a treat – to classmates, with proceeds benefiting a school organization.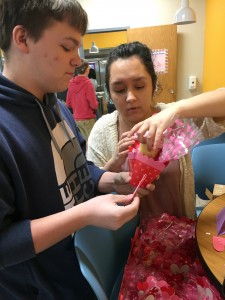 At Henderson County Early College, the Key Club donated the profits from their lollipops, cupcakes and candy gram treat bundles to Safelight, a local non-profit organization that provides immediate short-term help and long term solutions to individuals in crisis.
Key Club president Alex said the students sold the candy grams Feb. 1-13, raising about $80 for Safelight, and club members made the special delivers on Tuesday, Feb. 14.
"Key Club is a club dedicated to helping and supporting the community," Alex said. "All of our activities benefit others."
Over at Upward Elementary, a group of 4th- and 5th-graders made some keen observations that led them to donate the proceeds from their candy gram sales to physical education teacher Darrell Rogers for new gym equipment.
School Counselor Gloria Anderson said, "They just noticed that he was having to pump up the basketballs before every class, and that the dodge balls had tears in them."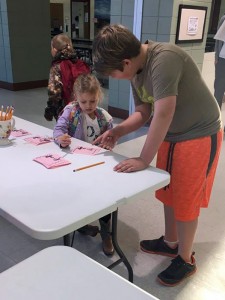 Fifth-grader Kimberly said Coach Rogers always tells students to be gentle with the basketballs and not to kick them, but still, "He needs to pump them up sometimes."
It was during one of the times Coach Rogers had to pause play to pump a ball that Ryan and his friends crafted a plan to sell Valentine's Day candy grams to help purchase new gym equipment.
Ryan, Kimberly, and other 5th-graders Hunter and Fatima presented their proposal and budget to Principal Jason Joyce and Lead Teacher Dena Wolfe during a "working lunch," and Joyce agreed to front the money for supplies with a 0 percent interest rate.
After spending $80 on supplies, Ryan said, "We made $176.68. That was profit."
The 5th-graders got some help from 4th-graders Cristal, Emily and Blake in selling the sports-shaped erasers, pencil toppers, pencils, bookmarks, and lollipops with Valentine's Messages attached before school during the week before Valentine's Day, and after making their deliveries on Feb. 14, they sat down with Coach Rogers to pick out which new dodge balls and basketballs they'd purchase with the funds.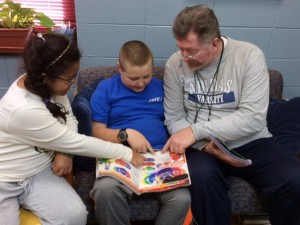 The candy grams also turned out to be a lesson in economics for the Upward students, who learned to tweak sale prices in response to market demand and competitive pricing.
Ryan explained that at first, the pirate-themed bookmarks were selling like wildfire. But the game changed once he and his friends started selling the animal-themed bookmarks.
"As soon as we brought something new into play, nobody cared about the old stuff," he said.
On the last day of the sale, the students made reductions in bookmark, eraser, and pencil prices to lighten their inventory, and Ryan made quite the observation.
"I realized, 'Why would you pay 50 cents for an eraser when you can get a big one from the book fair at 25 cents?'" Ryan said they dropped the prices and, "We made more on the last day than what we made the rest of the time."
– By Molly McGowan Gorsuch
Public Information Officer