HENDERSONVILLE, N.C. (Feb. 14, 2017) – During its regular board meeting Monday night, the Henderson County Board of Public Education named Dr. Jan King the new Assistant Superintendent for Curriculum & Instruction, effective March 1, following the retirement of Dr. Kathy Revis.
"Dr. Kathy Revis leaves big shoes to fill and I am grateful for the many years she has served as a mentor to me," said King.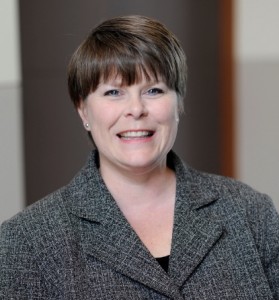 King began her 24-year education career with HCPS as a classroom teacher at Dana Elementary, Apple Valley Middle, and West Henderson High schools, then became a specialist for the Academically and Intellectually Gifted (AIG) programs at West Henderson High, Hendersonville Middle, Bruce Drysdale Elementary and Edneyville Elementary schools.
King also served as an Instructional Coach for high schools, an Assistant Principal at Hendersonville High, and a Principal at Glenn C. Marlow Elementary, during which time she won the district's Principal of the Year award twice, and served as North Carolina Principal of the Year during school year 2010-11.
In 2011, King moved to the N.C. Department of Public Instruction where she served as Professional Development Lead for Region 8, and then Regional Lead for Regions 7 and 8 – where she served 37 school districts for three years. King returned to HCPS in 2015 as Director of School Learning and Leadership Development and is currently Chief Professional Development Officer, responsible for coordinating support for Beginning Teachers, Beginning Principals, the Aspiring Administrators program, and ongoing professional development for teachers and administrators district-wide.
Superintendent Bo Caldwell said HCPS is lucky to have such an experienced educator serve as the district's next Assistant Superintendent for Curriculum & Instruction.
"What other person has such a wealth of knowledge of Henderson County Public Schools and North Carolina's education system?" Caldwell said. "Dr. King is the epitome of a homegrown educational leader."
"It is an honor to continue to serve the students and staff of Henderson County Public Schools, and I am appreciative to Mr. Caldwell and our Board of Education for this opportunity," King said. "The Curriculum and Instruction team is comprised of a dedicated group of professional educators, and I am eager to work with them as we support and encourage the district's hard-working teachers."
In addition to a Master of Arts in School Administration from Gardner Webb University, King holds a Doctorate in Educational Leadership from Western Carolina University, as well as her National Board teacher certification and school administrator certifications.