When walking through downtown Hendersonville this summer, be on the lookout for public art created by Henderson County Public Schools' talented high school artists!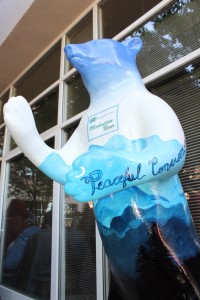 As they have in years past, our art students were commissioned by local organizations to paint Bearfootin' Bears for the annual Bearfootin' Bears Public Art Walk.
This year, Hendersonville High advanced art students Joseline Z. and Mykal-Hana P. depicted a landscape scene of the Blue Ridge Mountains and wrote words of conflict resolution on "Mediation Bear" for the Mediation Center.
West Henderson High advanced art students Tara O., Carly G., Vinnessa M., and Dylan R. painted "City Pride" bear for the Henderson County Bar Association after brainstorming what made Hendersonville special.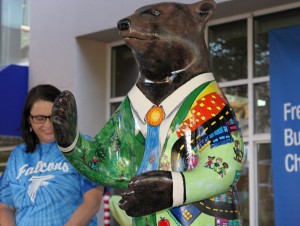 "We feel that Hendersonville is a down-to-earth city, so instead of a suit, we put a Mr. Rogers sweater on him," the students wrote in a statement read at the May 13 bear reveal.
"We decorated the sweater with a colorful combination of city and nature, because that is what we love about Hendersonville," they said. "Our bear has hiking boots on because we encourage our community to experience the walkability of our town."
– By Molly McGowan Gorsuch
Public Information Officer